Shopping Cart
Your Cart is Empty
There was an error with PayPal
Click here to try again
Thank you for your business!
You should be receiving an order confirmation from Paypal shortly.
Exit Shopping Cart
Boston Charter Fishing Reports
Originally published in Coastal Angler Boston February 2012: 

The Not-So Hidden Costs of Boat Ownership   - by Capt. Tim Egenrieder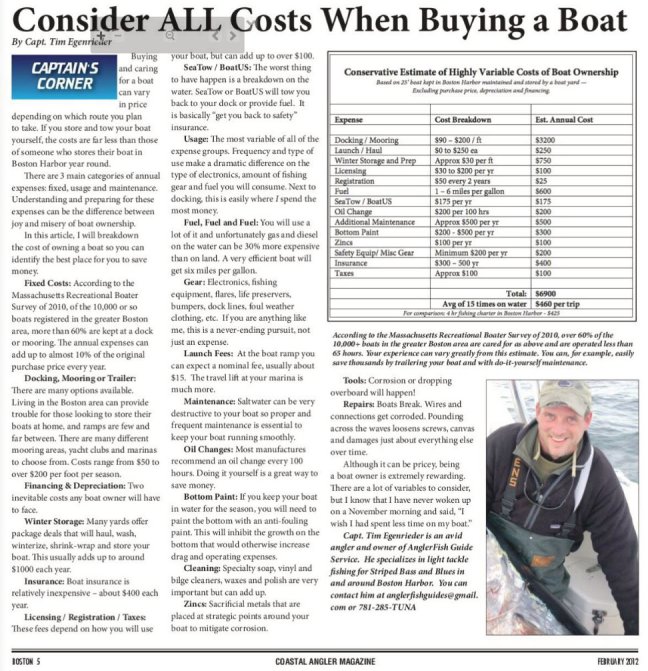 I'm not sure if it's a sign that the economy is improving, boat shows are advertising or simply that many are sick of winter and ready for the joys of summer, but the itch of getting out on the water is again beginning to spread.  It seems with steadying frequency that I am being asked questions on how much it truly costs to own a boat.  Would be first time boat buyers are often shocked by the long list of not so hidden costs associated with boat upkeep.
We've all heard "the best 2 days of a boat owners life are the day you buy it and the day you sell it", "B.O.A.T. – Break Out Another Thousand" and "BOAT – the hole on the water you throw money into."  Unfortunately, they are all true.
Once you've found that make and model that best suits you, be sure to have enough left in the boat kitty to provide for all of the associated annual costs.  There are 3 main categories of annual expenses: Fixed, Usage and Maintenance.  Understanding and preparing for these expenses can be the difference of joy and misery of boat ownership.
Fixed Costs:  According to the Massachusetts Recreational Boater Survey of 2010, of the 10,000 or so boats registered in the greater Boston area, more than 60% are kept at a dock or mooring.  The annual expenses can add up to almost 10% of the original purchase price every year.
Docking, Mooring or Trailer:  There are many options available.  Even if you have suitable space in your yard and a suitable vehicle, Boston is awful for boats on trailers.  Ramps are few and far between.  There are many different mooring areas, yacht clubs and marinas to choose from.  Costs range from $50 to over $200 per ft per season. 
Financing & Depreciation:  Facts of life and two of the biggest costs of ownership. 
Winter Storage:  Many yards offer package deals that will haul, wash, winterize, shrink-wrap and store your boat.  This will add up to at least $1000 each year. 
Insurance:  Boat insurance is relatively inexpensive – about $400 each year
Licensing / Registration / Taxes: These fees depend on how you will use your boat but will easily add up to over $100.
SeaTow / BoatUS:  The worst thing to have happen is a breakdown on the water.  Seatow or BoatUS will tow you back to your dock or provide fuel.  It is basically "get you back to safety" insurance.
Usage:  The most variable of all of the expense groups.  Frequency and type of use makes a dramatic difference on the type of electronics, amount of fishing gear and fuel you will consume.  Next to docking, this is easily where I spend the most money.
Fuel, Fuel and Fuel:  You will use a lot of it and best of all, gas and diesel on the water can be 30% more expensive than on land.  A very efficient boat will get 6 miles per gallon, most are in the 1-3 mpg range.
Gear: Electronics, Fishing Equipment, Flares, Life preservers, Bumpers, Dock Lines, Foul weather clothing, etc.  If you are anything like me, this is a never-ending pursuit, not just an expense.
Launch Fees:  At the boat ramp you can expect a nominal fee, usually about $15.  The travel lift at your marina is much more.
Maintenance:  Saltwater may be the most destructive environment to keep anything you care about.  Proper and frequent maintenance is essential to keep your boat running smoothly. 
Oil Changes:  Most manufactures recommend an oil change every 100 hours.  Doing it yourself is still 3X the cost of the oil change on your car.
Bottom Paint:  If you keep your boat in water for the season, you will need to paint the bottom with an anti-fouling paint.  This will inhibit the growth on the bottom that would otherwise increase drag and operating expenses.
Cleaning:  Seems benign, but specialty soap, vinyl and bilge cleaners, waxes and polish add up.
Zincs:  Sacrificial metals that are placed at strategic points around your boat to mitigate corrosion.
Tools:  Boats are where tools go to die.  Corrosion or dropping overboard will happen. 
Repairs:  Boats Break.  Wires and connections get corroded.  Pounding across the waves loosens screws, canvas and damages just about everything else over time. 
Now that you've seen all of the costs and pitfalls, is it worth it?  That is up to you.  I know that I have never woken up on a November morning and said, "I wish I had spent less time on my boat."
Conservative Estimate of Highly Variable Costs of Boat Ownership
Based on 25' boat kept in Boston Harbor maintained and stored by a boat yard –
Excluding purchase price, depreciation and financing
Expense
Cost Breakdown
Est. Annual Cost
Docking / Mooring
$90 – $200 / ft
$3200
Launch / Haul
$0 to $250 ea
$250
Winter Storage and Prep
Approx $30 per ft
$750
Licensing
$30 to $200 per yr
$100
Registration
$50 every 2 years
$25
Fuel
1 – 6 miles per gallon
$600
SeaTow / BoatUS
$175 per yr
$175
Oil Change
$200 per 100 hrs
$200
Additional Maintenance
Approx $500 per yr
$500
Bottom Paint
$200 - $500 per yr
$300
Zincs
$100 per yr
$100
Safety Equip/ Misc Gear
Minimum $200 per yr
$200
Insurance
$300 – 500 yr
$400
Taxes
Approx $100
$100
Total:
$6900
Avg of 15 times on water
$460 per trip
        For comparison: 4 hr fishing charter in Boston Harbor - $425
*****According to the Massachusetts Recreational Boater Survey of 2010, over 60% of the 10,000+ boats in the greater Boston area are cared for as above and are operated less that 65hrs.  Your experience can vary greatly from this estimate.  You can, for example, easily save thousands by trailering your boat and with do-it-yourself maintenance.*****(for under table)
This is our first post on the new blog.  Check out our fishing highlight video from last year.  There are plenty of big fish pics and great video segments from our year in Boston Harbor.  Enjoy!
/