Shopping Cart
Your Cart is Empty
There was an error with PayPal
Click here to try again
Thank you for your business!
You should be receiving an order confirmation from Paypal shortly.
Exit Shopping Cart
Boston Charter Fishing Reports
The first half of the month has had some real peaks and valleys with the weather but the fishing has been excellent.  We have run everything from fly fishing exclusive trips to watching live baits get ambushed by hungry stripers.  3 of our Boston Fishing Charters have boated over 30 stripers each on a 4 hour trip.  The time is now to book your trip!
Originally Published in Coastal Angler Boston June 2013:  Boston Harbor Blackbacks – Capt. Tim Egenrieder, AnglerFish Guides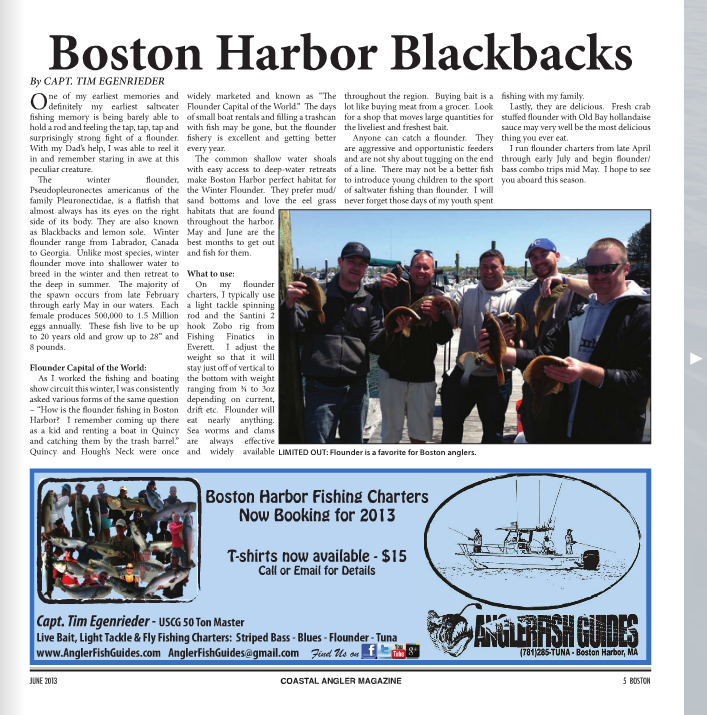 One of my earliest memories and definitely my earliest saltwater fishing memory is being barely able to hold a rod and feeling the tap, tap, tap and surprisingly strong fight of a flounder.  With my Dad's help, I was able to reel it in and remember staring in awe at this peculiar creature.
The winter flounder, Pseudopleuronectes americanus of the family Pleuronectidae, is a flatfish that almost always has its eyes on the right side of its body. They are also known as Blackbacks and lemon sole.  Winter flounder range from Labrador, Canada to Georgia.  Unlike most species, winter flounder move into shallower water to breed in the winter and then retreat to the deep in summer.  The majority of the spawn occurs from late February through early May in our waters.  Each female produces 500,000 to 1.5 Million eggs annually.  These fish live to be up to 20 years old and grow up to 28" and 8 pounds.
Flounder Capital of the World:
As I worked the fishing and boating show circuit this winter, I was consistently asked various forms of the same question – "How is the flounder fishing in Boston Harbor?  I remember coming up there as a kid and renting a boat in Quincy and catching them by the trash barrel."  Quincy and Hough's Neck were once widely marketed and known as "The Flounder Capital of the World."  The days of small boat rentals and filling a trashcan with fish may be gone, but the flounder fishery is excellent and getting better every year.
The common shallow water shoals with easy access to deep-water retreats make Boston Harbor perfect habitat for the Winter Flounder.  They prefer mud/sand bottoms and love the eel grass habitats that are found throughout the harbor.  May and June are best months to get out and fish for them.
What to use:
On my flounder charters, I typically use a light tackle spinning rod and the Santini 2 hook Zobo rig from Fishing Finatics in Everett.  I adjust the weight so that it will stay just off of vertical to the bottom with weight ranging from ¾ to 3oz depending on current, drift etc.  Flounder will eat nearly anything.  Sea worms and clams are always effective and widely available throughout the region.  Buying bait is a lot like buying meat from a grocer.  Look for a shop that moves large quantities for the liveliest and freshest bait.
Anyone can catch a flounder.  They are aggressive and opportunistic feeders and are not shy about tugging on the end of a line.  There may not be a better fish to introduce young children to the sport of saltwater fishing than flounder.  I will never forget those days of my youth spent fishing with my family.
Lastly, they are delicious.  Fresh crab stuffed flounder with Old Bay hollandaise sauce may very well be the most delicious thing you ever eat.
I run flounder charters from late April through early July and begin flounder / bass combo trips mid May.  I hope to see you aboard this season.
Originally Published June 2012:  June Stripers – Primetime for Light Tackle
. – by, Capt. Tim Egenrieder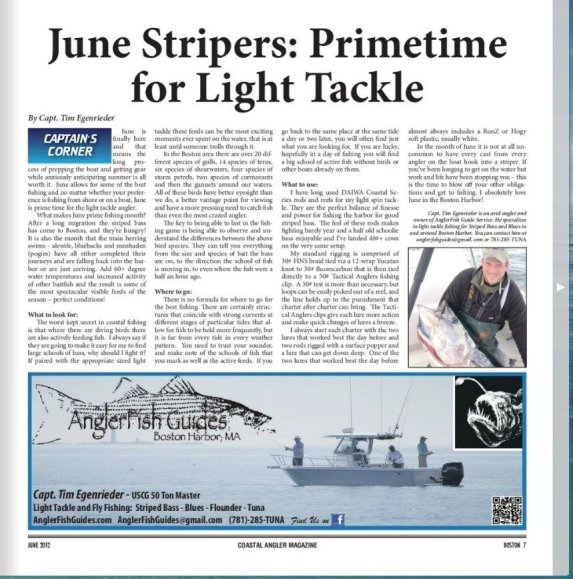 June is here!  The long processes of prepping the gear and boat, the anticipation through the long winter all culminate in June with some of the best fishing of the year.  It doesn't matter if you fish from shore or boat, June is prime time for the light tackle angler.
The striped bass long migration has brought them to Boston, and they're hungry!  June is also the month that the main herring swims - alewife, bluebacks and menhaden (pogies) have either completed their journeys and are falling back into the harbor or are just arriving.  These factors combined with 60+ degree water temperatures and all of the increased activity of other baitfish leads to some of the most spectacular visible feeds of the season – perfect conditions!
What to look for:
The worst kept secret in coastal fishing is that diving birds = actively feeding fish.  If they're going to make it easy for me to find large schools of bass, I always say, why fight it.  These feeds, when paired with appropriate sized light tackle, can be the most exciting moments ever spent on the water, at least until someone trolls through it…
There are over 20 different species of gulls, 14 species of terns, 6 species of shearwaters, 4 species of storm petrels, 2 species of cormorants and then the gannets around our waters.  All of these birds have better eyesight than you, a better vantage point for viewing and have a more pressing need to catch fish than even the most crazed angler.  If they're not very good at it, they don't last very long.
Observing and understanding the differences between the above bird species can tell you everything from the size and species of bait the bass are on, the direction the school of fish is moving and even where the fish were half an hour ago. 
Where to go:
There is no set answer to this question.  There are structures that coincide with strong currents at stages of particular tides that hold fish more frequently, but it is far from every tide in every weather pattern.  You need to trust your sounder and make note of both schools of fish that you mark and active feeds.  If you go to the same place at the same tide a day or two later, you will often find them.  One of the best things that can happen in a day of fishing is finding a big school of active fish without any birds or other boats on them.
What to use:
I have long used DAIWA Coastal Series rods and reels for my light spin tackle. They are the perfect balance of finesse and power for fishing the harbor for striped bass.  The feel of these rods makes fighting barely year and a half old schoolie bass enjoyable and I've landed 40#+ cows on the very same setup.
My standard rigging is comprised of 30# FINS braid tied via a 12 wrap Yucatan knot to 30# fluorocarbon which is then tied directly to a 50# Tactical Anglers fishing clip.  30# test is more than necessary but loops can be easily picked out of a reel and the line holds up to the punishment that charter after charter can bring.  The Tactical Anglers clips give each lure more action and make quick changes of lures a breeze.
I always start each charter with the 2 lures that worked best yesterday and 2 rods rigged with a surface popper and a lure that can get down deep.  One of the 2 lures that worked best yesterday almost always includes a RonZ or Hogy soft plastic, usually white.
It is not at all uncommon to have every cast from every angler on the boat hook into a striper in the month of June.  If you've been longing to get on the water but work, life etc. have been stopping you – this is the time to blow them off and get out there.  I absolutely love June in Boston Harbor! 
This is our first post on the new blog.  Check out our fishing highlight video from last year.  There are plenty of big fish pics and great video segments from our year in Boston Harbor.  Enjoy!
/